Zimbabweans across the capital called for a countrywide anti-government demo against corruption and mis-governance  on Monday 4th July.
For those of us who live in other countries cannot sympathize with them enough, regardless of political biases it is horrible to see people go through life not able to provide things that we take for granted.
Citizens have been tortured, tormented and violated for a long time whilst the government have failed to admit its failures and to correct its mistakes.
Thousands of children graduate yearly in colleges and in universities to be educated loafers and beggars. Families spend their hard earned money to send their children to school so it can empower their lives and potentially make a better life for themselves.
Workers are not paid on time and when they do eventually get paid there are restrictions to the amount they can withdraw. Why should they beg to be employed, beg to be paid and beg to withdraw their own salaries? How is the government turning their own people into scavengers?
The senior citizens and war veterans are treated like faeces. They are forced to stand in long queues in all sorts of weather to get their benefits. Those are the same people who fought for our independence and helped to develop the country.
Situation was made worse as only a few months ago when Zimbabwe declared drought, however President Mugabe felt that Zimbabwe had enough produce and doesn't need to trade with other nations.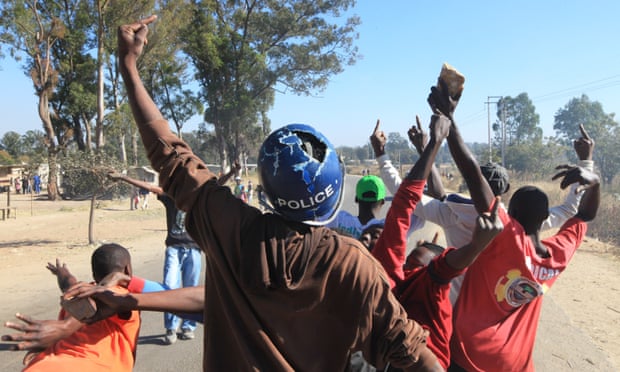 Among many professionals including teachers, doctors, nurses all stopped work over unpaid salaries because of a chronic cash shortage.
Police used teargas and water cannons to break up protests in some areas of the capital, Harare, throughout Monday.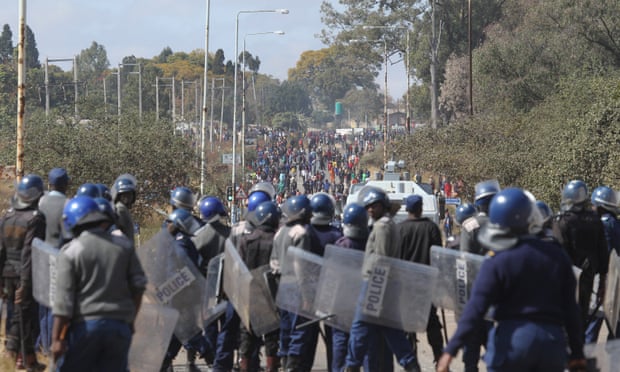 The uproar begun when minibus drivers put up barricades in a protest against harassment and roadblocks by police demanding bribes.
According to the government, they claim that teachers, doctors and nurses will get their wages by the middle of July, Reuters news agency has reported.
Many teachers and the rest of the civil servants are declaring their incapacity to go to work. A number of government departments were operating without some of their staff who stayed at home.
However, unlike government workers, the security forces were paid on time in June. Those who were not paid were handed a $100 (£76) advance to help with transport and other costs.
Political activists, backed by the social movement called #ThisFlag, have called for a national stay-away on Wednesday "to shut down the country" in protest at the government "for allowing corruption, injustice and poverty".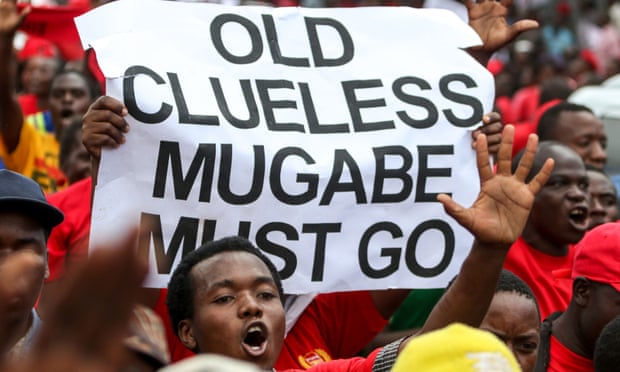 Mugabe has been in power since independence held 36 years ago. Protests have not reached this stage before, but change is definitely wanted by the people.
Many of these people have to feed their families, send their children to school which requires school fees as well as money to have sanity. These are not people who are merely complaining, they work long hours and do not get paid for it.
Corruption is at its highest point now. The tax paying citizens are working extremely hard and struggle to pay for transport to go to work, put food on the table, pay rent and get medication in the clinics.
As for Journalists it is a tough time for them as they cannot report everything to it's extent as government officials will take down their articles if they feel it is not suitable, definitely not an act of independence.
However, government officials are busy enjoying their lives by paying themselves huge salaries, transferring money into foreign banks, buying themselves expensive cars and building houses with excessive 64 bedrooms.
Phelekezela Mphoko began staying in an exclusive hotel in Harare after being appointed as Zimbabwe Vice President. The former military commander reportedly refused to live in his predecessor's state-owned home, as in customary, because he said it was not in keeping with his stature. He has instead been staying with his wife in the presidential suite at the Rainbow Towers hotel, enjoying access to 24-hour room service, a gym, heated swimming pool and a casino.
As a nation those in high positions should be seen portraying a correct image to investors especially on their determination to develop the country and need humble leaders who are prepared to sacrifice their wealth to support communities and not greedy luxury life seekers.
Is this the freedom that Zimbabweans fought for 36 years ago? It is incredible how ignorant some of these politicians can be, but don't seem to want a change. It only seems as if they  their position in politics would be taken away if Mugabe leaves, a decision they cannot afford to take.
There have been reports of Government officials in Zimbabwe are tempering with mobile signals as civil unrest heightens in the country. It is of course a period of uncertainty, alongside many other Zimbabweans that change will occur and their problems will be acted upon.
The protest taking place on Wednesday 6th July will be another attempt for the people on Zimbabwe to outcry once again for their voices to be heard.